Zinc + Vitamin C Chewable: Effective Product
Zinc + Vitamin C Chewable, is a great-tasting dietary supplement to help you maintain healthy levels of zinc and vitamin C in your body.†
Additional Information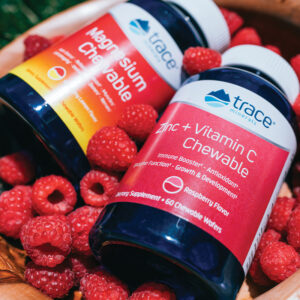 60 servings per container.
Immune Booster† – Antioxidant†-Enzyme Function† – Growth & Development†
250mg of Vitamin C, 40mg of Zinc per serving.
Supercharged with a concentrated complex of full-spectrum ionic trace minerals from sea water.
Adults and children age 4 and older, chew 1 wafer daily.
Zinc is a necessary trace element that helps support a healthy immune system, participates in over 100 enzyme reactions, and supports healthy growth and development. Vitamin C is an essential vitamin that helps boost the immune system and has strong antioxidant properties.
We've married these two important nutrients together to create our Zinc + Vitamin C Chewable, a great-tasting dietary supplement to help you maintain healthy levels of zinc and vitamin C in your body.†

INGREDIENTS
Xylitol, palm oil, red beet juice color, Non GMO corn starch, natural raspberry flavor, magnesium stearate, steviol glycosides.
ALLERGEN INFO
NO KNOWN ALLERGENS. GLUTEN FREE.
KEEP OUT OF REACH OF CHILDREN.
Disclaimer: The information on this site is for informational purposes only. These statements have not been evaluated by the Food and Drug Administration. These products are not intended to diagnose, treat, cure or prevent any disease.